Nore Barn Woods: Our November Winter Walk for Wellbeing
As part of our Winter Walks for Wellbeing series, we are promoting a selection of scenic walks in our local area for our staff and patient communities to enjoy. Last month we shared a loop of the Hayling Billy, this month we are sharing a route that includes the Emsworth coastline and Nore Barn Woods.
This 2.6 mile walk takes around an hour to complete and includes beautiful coastal views and wildlife spotting opportunities. It can be found on the Emsworth Walks website link here : http://www.emsworthwalks.org/Nore%20Barn.html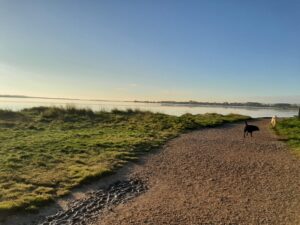 Why is keeping active so important?
Getting out and about is a vital part of looking after ourselves. We wanted to share this walk and promote the importance of keeping active and the positive impact it has on our health as part of self-care week .
Wellbeing includes our mental health too
Keeping active, learning new skills and experiences, connecting with others and appreciating the present moment are all great ways to look after our mental wellbeing and promote a positive mindset. The NHS have developed a 5 step plan to support in looking after your mental wellbeing. Find out more here.
Pictures taken by two of our PCN team who enjoyed walking this route early one morning before work!